Skip to Main Content
It looks like you're using Internet Explorer 11 or older. This website works best with modern browsers such as the latest versions of Chrome, Firefox, Safari, and Edge. If you continue with this browser, you may see unexpected results.
Welcome
Welcome to the WVU Tech Sociology Research Guide. This guide provides centralized access to the sociolology resources available to WVU Tech students and faculty.
PLEASE NOTE: If any of the resources request that you log in to use them, use your WVU/MIX account log-in information.
Durkheim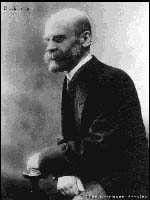 Emile Durkheim, prominent Sociologist
From Wikipedia commons, https://commons.wikimedia.org/wiki/File:Emile_Durkheim.jpg
Quick Links
WorldCat

Use this online catalog to find books held at WVU Tech's Beckley Library

Borrowing Materials

Information on borrowing and renewing privileges.
Access to Resources
Access to electronic resources is authenticated when on campus
Remote access requires use of your WVU Login which is your username and your password
If you have forgotten your WVU Login please click HERE.
Sociology--What is It?
Sociology
Sociology is so varied a discipline that it can be identified only very loosely as the study of social relationships, institutions and structures. Not only is this definition loose, it is also negative, for 'social' often means, in effect, not distinctly economic, not distinctly political, not distinctly religious and so forth. Although sociologists can trace their intellectual origins back to the Scottish Enlightenmentand beyond, the discipline did not begin to become established until the last quarter of the nineteenth century. Although sociology is concerned with the study of social relationships, institutions and structures, the discipline is a child of industrial capitalism and its predominant field of study is modern Western societies.
From: Carrier, J. G., & CARRIER, J. G. (2009). sociology. In A. Barnard, & J. Spencer (Eds.), Encyclopedia of social and cultural Anthropology (2nd ed.). London, UK: Routledge. Retrieved from http://www.libproxy.wvu.edu/login?url=https://search.credoreference.com/content/entry/routencsca/sociology/0?institutionId=735
What do you think?
Yes-it's exactly right: 3 votes (100%)
No-it's too broad: 0 votes (0%)
No-it's too narrow: 0 votes (0%)
Social Symptoms of Identity Needs
Social Symptoms of Identity Needs

by

ISBN: 1849408076

Publication Date: 2009-01-01

Explains how our major social problems, including crime, violence, terrorism, war, substance abuse, and prejudice, are the result of efforts by their perpetrators to maintain a secure identity, or sense of self. It locates the root causes of these social problems and counterproductive responses in certain identity-damaging social and cultural phenomena that force identity to defend and maintain itself by socially harmful means.